Photo by Helena Yankovska on Unsplash
Whether having a night in or a few drinks before hitting the town you're going to want to get the party started in style. There's nothing like kicking off proceedings with a few cocktails to set the tone for a night of sophisticated fun. We've taken the work out of it with a guide to running your own hen party cocktail bar with some top recipes your party will love! The main thing to remember is to keep it simple. 
Now onto the fun! When it comes to deciding on the right drink for your party, choose a drink you and your friends actually really like. Don't go for what's on trend here. Also, be sure to test your recipe out beforehand to make sure it tastes ok.
Below are some of our top and easy tipples to serve up at your hen party.
1. Rosemary Gin Fizz
Who doesn't love a G&T? It's a simple drink and loved by most - and easy to jazz up! This recipe from Cookie and Kate can be made with only 5 ingredients which you will probably already have in the cupboard - gin, rosemary leaves, club soda, honey and a lemon.
This recipe and photo is taken from Cookie and Kate.
What You'll Need:
2 ounces (1/4 cup) gin
1/2 ounce (1 tablespoon) fresh lemon juice
1/2 ounce (1 tablespoon) rosemary simple syrup (recipe below)
3 ounces (1/3 cup) club soda
1 lemon slice, for glass
1 rosemary sprig, for glass

ROSEMARY SIMPLE SYRUP

1/2 cup sugar
1/2 cup water
1 rosemary sprig
Making the Rosemary Simple Syrup:
Combine sugar and water in a small saucepan then bring to a boil. Cook, while stirring, until the sugar dissolves. Remove pan from the heat, add rosemary, and then let steep for 1 hour. Discard the rosemary sprig.
How To Make:
Shake gin, lemon juice and rosemary simple syrup in a cocktail shaker filled with ice. Strain into a glass filled with ice. Add club soda. Garnish with lemon slice and rosemary sprig. 
2. Pimms
If you're planning a spring or summer hen this is the perfect start to a sophisticated afternoon. It's a light drink in terms of alcohol content so a good one if you are starting early and want to ensure that the tipsy time doesn't kick in too soon. It requires some pre chopping of cucumber and whatever fruit you want to include but it's easily stored in pre mixed in jugs it keeps your hands free for partying.
What You'll Need:
200ml

 

Pimm's

 

No. 1
600ml

 

lemonade
mint

 

sprigs, sliced cucumber, sliced orange and strawberries, to serve
How to Make it:
Fill a jug with ice and pour in the Pimm's and lemonade. Give it a good stir then add the mint, cucumber and fruit.  For a larger hen party just double the recipe. 
3. French Martini
The French Martini is a fantastic looking cocktail which is easy to drink, easy to make and has rapidly become the number one choice for Hen Parties and other celebrations.  
The Ingredients:
vodka

 

50ml
raspberry liqueur

 

15ml
pineapple juice

 

40ml
raspberry

 

1, to garnish
How to Make:
Pour the ingredients into a cocktail shaker with ice cubes.
Shake well.
Strain into a chilled cocktail glass.
Garnish with 3 Raspberries.
4. Mimosa
This is a PEFECT cocktail to pair with afternoon drinking or brunching.  If you're having a brunch hen party, Mimosa's are the perfect welcome drink.  They are simple, refreshing, and great for those who don't want to commit to drinking prosecco so early on!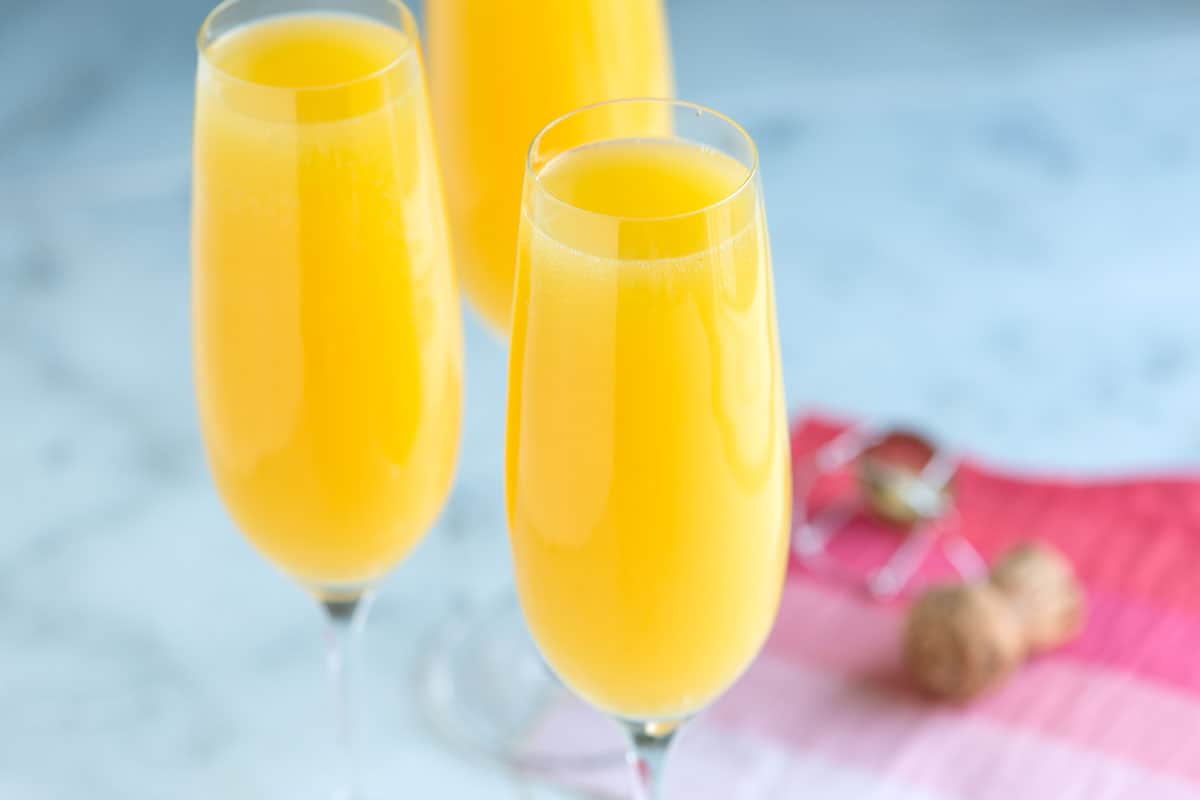 What You'll Need:
Prosecco / sparkling wine (tip - dry prosecco is best, as sweet prosecco paired with orange juice might be a little too sweet!)
Orange juice (fresh is best)
How To Make It:
Half fill each glass with prosecco
Top up with orange juice until the glass is full
5. Pornstar Martini
What girl doesn't love a pornstar?! A delicious fruity cocktail with a prosecco chaser, this cocktail is always a hit with hen parties!
What You'll Need:
For this, you are going to need a cocktail shaker and measuring cup - you do need to get the measurements right for this to taste perfect.
1 1/2 ounces vanilla-flavored vodka 
1/2 ounce passion fruit liqueur (such as Passoã or De Kuyper)
1 ounce passion fruit puree 
1/2 ounce lime juice, freshly squeezed
1/2 ounce

 

vanilla simple syrup
2 ounces sparkling wine or prosecco, chilled
Garnish: 1/2 passion fruit
How To Make It:
Simply add all ingredients (except for the sparkling wine/prosecco) into a shaker with ice and shake vigorously until well-chilled.
Strain the mix into a chilled coupe glass.
Garnish with a passion fruit half.
Serve with a sparkling wine or prosecco on the side.